Increase Conversions
With Inbound Marketing
For years, businesses have been obsessed with getting on the first page of Google and other search engines. This is a clear case of confusing the ends with the means. The real goal is (and always has been) to get more clients or customers for your business. To do that, you have to increase web traffic to your site and increase conversions, turning all those new visitors into buyers.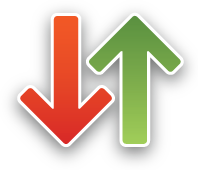 Many businesses focus their entire marketing approach on that first step and then hope for the best. They utilize tactics like social media and search engine optimization to increase web traffic but neglect to offer visitors any conversion options beyond a "Contact Us" button.
The LTR Digital Group takes a different approach. We work with you to build a comprehensive conversion strategy that offers website visitors the option of engaging with your business in a variety of ways according to their comfort level, such as: downloading an informative whitepaper, sitting in on a webinar or scheduling a consultation. But we don't stop there. Using targeted landing pages and lead nurturing campaigns, we help you build buyer trust and position your business as the obvious choice, driving your lead conversion rates to all time highs.